About
CLASSICAL MUSIC FOR THE WORLD PRESENTS
A REFLECTION OF LIFE
YOUNG ARTISTS CONCERT
Sunday, August 14 at 4:00 p.m. | Covenant United Methodist Church

Works By
Robert Schumann (1810 – 1856)
Paul Hindemith (1895 – 1963)
J. S. Bach (1685 – 1750)
Because Music Is a Gift…
Classical Music For the World believes that artistic music, like the beauty of nature, should be available for all to enjoy, so our concerts are free of charge and open to everyone. However, tax-deductible donations are gratefully accepted to help continue our mission.
Adults and children of all ages are welcome.
Program Description by the Performer
This program contains three works that reflect the pain and joy of life. Aspects of love are found in Schumann's "Fantasiestuke"; suffering and confusion in Hindemith's cello sonata; and pure joy and contentedness in Bach's cello suite no.3.
Fantasiestücke, Op. 73 ……………………………………………………. Robert Schumann (1810 – 1856)
Cello Sonata, Op.25 No.3 ………………………………………………. Paul Hindemith (1895 – 1963)
Cello Suite No.3 in C major, BWV 1009 …………………………… J. S. Bach (1685 – 1750)
About the Musicians

Daniel Hur Meglino 허강, cellist
As an artist, Daniel seeks to break stigmas about classical music, both from outside the classical music world, as well as from within. He hopes to touch the souls of all who listen to his music, and he seeks to usher in an artistic renaissance with his unique outlook and musical innovations.
Now 18-year-old native Austin musician, Daniel has been sharing his musical talents in the Austin community since the age of six, through Classical Music for the World's programs such as Agape Recitals, Love concerts, Young Artists' Concerts, and Capitol Peace Concerts. He also has performed at the Austin State Hospital's year-round special holiday programs organized by the Chaplains of the All Faiths Chapel. Representing CMFW, he has performed at a variety of local community organizations' events: the Korean American Society of Greater Austin, the Japan-America Society of Greater Austin, UNA-USA Austin chapter, Fo Guang Shan Xiang Yun Temple, and the Austin Asian Chamber of Commerce.

Daniel has been studying cello since he was 5 years old. He began his tutelage under Francesco Mastromatteo who has been a primary instructor, and he also has studied under Douglas Harvey. Daniel will be studying under Professor Bion Tsang at the University of Texas at Austin in pursuit of a B.A. in Music.

Daniel has attended summer camps at Texas Strings and Interlochen Center for the Arts, and he enjoyed being a member of the West Lake High School Orchestras. He currently is a member of the Covenant United Methodist Church and plays regularly during worship services. He embraces his Korean heritage.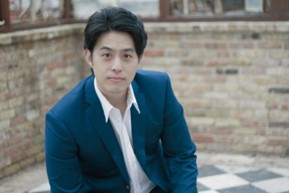 Joseph Choi, pianist
Korean-American pianist Joseph Choi is a multi-faceted artist of the 21st century. He has been praised for his sensitive, sincere and scintillating performances.

As a performer, Joey has competed on the international stage and has garnered awards such as the Second Prize in the 2014 NTD International Piano Competition, Finalist in the 2016 San Antonio International Piano Competition, where he was awarded the prize for Best Performance of a Baroque Composer, Second Prize in the 2012 Tuesday Musical Club Competition in San Antonio, and winner of the 2012 concerto competition at the University of Texas at Austin. He has performed in venues such as Zankel Hall in Carnegie Hall, Lincoln Center for the Performing Arts and the Benedict Music Tent at the Aspen Music Festival. Joey has also performed with groups such as the Austin Symphony Orchestra, Honolulu Symphony Orchestra, University of Texas Symphony Orchestra, Aeolus quartet and Inversion Ensemble.

As a music educator, Joey currently serves on the faculty of Concordia University Texas where he teaches piano, music theory and piano pedagogy. Furthermore, he continues to maintain a private studio in Austin where his students have gone on to win prizes in many competitions and have been featured on programs such as NPR's "From the Top".

As an advocate for the arts, Joey is the Artistic Director of the Classical Artists Concert Series where he works in conjunction with the Pflugerville Arts Council as a board member to bring international artists to the Central Texas region. Recently featured artists include the Cordova String Quartet, Miro String Quartet, Alexander Malikov, Michael Schneider and Francesco Mastromatteo.

After initial studies with Ellen Masaki, Joey continued his education with Anton Nel where he received both his Doctorate of Musical Arts and Bachelor of Music degrees at the University of Texas at Austin. His Master of Music degree was obtained at the Juilliard School working under Jerome Lowenthal and Matti Raekallio. Masterclass and further studies include Yoheved Kaplinsky, Robert McDonald, Julian Martin, John O'Conor, Dominique Weber, Robert Roux, Zenon Fishbein and Orli Shaham.
In his free time, Joey loves to compose music and ride his bicycle.
Event Details
Date: Sunday, August 14
Time: 4:00 p.m.
Presenter Details
CMFW passionately believes in the life-enhancing power of classical music — that its timeless beauty can brighten the darkest lives; its symmetry can bring order to chaos; its delicate ability to touch the soul can restore one's faith; and its universal appeal to the senses can unite people of disparate cultures. We commit ourselves to performing and sharing classical music for people of the world who long for beauty and inspiration in their lives.
Venue Details
Address: 4410 Duval Rd #6808
City: Austin
State: TX
Zip: 78727